Back to all posts
Posted on
First Day of School Info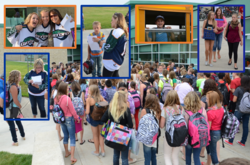 G.S. Lakie Middle School Opens on Wednesday, August 21st, 2019 for Registration.  
If you are new to the West Side of Lethbridge and need to register your Grade 6 to 8 child in school, school office hours will resume on Wednesday, August 21st for you to do so.  G.S. Lakie will be open from 8:00 to 4:00, Monday to Thursday, as well as 8:00 to noon on Fridays.  Anyone needing to register is encouraged to come to the school as soon as possible to pickup their registration package.  This is especially important for any Out-of-Province students that are looking to register in Alberta for the first time.  If you have any questions about the registration process, please don't hesitate to call the school after the 21st of August at (403) 327-3465
First Day of School is Tuesday, September 3rd, 2019
For returning/new students to G.S. Lakie, there are a few key points of information that you will need to know.
-  Busses will NOT be doing a morning pick up, but WILL be taking students home at the end of the day.
-  School starts for Grade 6 students ONLY at 8:30 am.  Grade 7 & 8 students will start at 1:00 in the afternoon
-  Grade 6 students need only walk up to the school before 8:30 and staff will be out front to welcome and direct you to where you need to go
-  Grade 6 parents are invited to stay and spend the morning with your child
-  Grade 7 & 8 students are encouraged to arrive a little early to check class lists that will be posted in the office windows in front of the school (However, you will not be invited into the school until 1:00)
-  For a list of school supplies that you can buy in advance, please click on "Parent Information" at the top of the screen and follow the links on the side