Back to all posts
Posted on
Trio of students, from the same family, win Alberta Champions contest prizes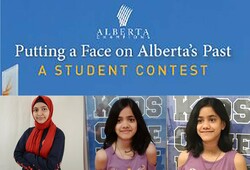 Three Lethbridge School District No. 51 students, all from the same family, have earned top-three finishes in the Alberta Champions student contest for 2019.
Alberta Champions has been running student contests since 2010 to promote greater awareness of important Albertans and their roles in building our community.
Students in grades 4-9 write about great Albertans, catch the inspiration, start to emulate the champions, begin their community involvement and learn good citizenship throughout the process.
The contest is open to students from all schools in southern Alberta.
This year, G.S. Lakie student Maha Kahn placed second in grades 7-9 essay category, and took home the prize of a $350 Visa certificate. Kahn's essay, Nellie McClung and the Quest for Women Empowerment, can be read here on the Alberta Champions website: MCCLUNG.
 Her two younger sisters also placed in the grades 4-6 category, as Zaara Kahn placed first in the story category, and collected a prize of a $300 Visa certificate). Her story, Making the Wild Rose My Own, The Alice Jamieson Way, can be read here: JAMIESON.
Zayna Kahn placed second in the same category, and took the prize of a $200 Visa gift certificate. Her story, Opening My Eyes with Clara Christie Might, can be read here: MIGHT.
 Pat Christie, executive administrator for the Alberta Champions Society, said it was extremely rare to have three winners, all from the same family.
"These are all excellent accomplishments and it was evident you worked hard to polish off your submissions," she said. "The judges were quite shocked after choosing the winners to find that there are such good writers all in one family!"
The Kahn family, their teachers Kristen Gilbert and Laurie Neher from Coalbanks and Jodie Babki from Lakie, are invited to the Alberta Champions special Unveiling Event on June 4, when the contest prizes will be presented as part of the program.