Shop
CTF: Course Description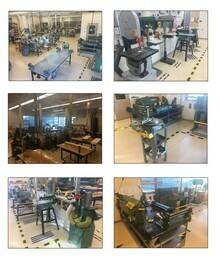 Lakie has an amazing program that allows all students from grades six, seven & eight to get some "hands on"experience working in a shop. 
Our facility features not only woodworking, but metal fabrication and technology as well.  The shop has all of the tools and machines that one would find in an industrial setting as well as including some exciting technology such as a 3D printer, CNC machine and computers/video equipment for designing projects and documenting learning. Shop is offered as an option course that students volunteer to take.  All students who take shop start the term by passing a series of safety courses and quizzes before they are allowed to use the different power tools. 
In grade six, the construction projects are more prescribed as the students learn how the tools are used, and build their foundational skills.  As they move up through the grade levels, students are encouraged to create and tackle projects that are more challenging and in alignment with the new CTF curriculum.
Shop Club
Shop Club Runs Wednesdays and Thursdays at noon. All students are welcome to drop in regularly or as they have time. You do NOT have to be in a shop class in order to attend shop club. 
Each student is required to complete a Shop Club Safety Agreement before they are permitted to use the tools/equipment in the shop.
The focus on shop club is for students to give extra time to shop projects or simply to plan/design and build something for themselves and learn more in the process.  Safety is of the utmost importance and all students must pass required safety requirements. 
Modern Shop & Maker Space Photo Gallery
Welcome to our shop gallery where you will see some of the amazing student works created throughout the year.